Our Goal Is Simple...
We are here to help you master the art of hypnosis and become a powerful agent of positive change.
Imagine you are in a lovingly crafted, well-equipped and warm learning environment. You're surrounded by supportive peers who care about your individual needs, as they share the same goal.
You have people to practice with from all around the world, as well as share, support and learn from. You have all the resources you need to thrive within this field.
Jacquin Hypnosis Academy has enabled thousands of students to become successful hypnotherapists. If you intend to make hypnotherapy your new career, part-time or full-time, or simply integrate this knowledge with your existing skills, you are in the right place to succeed.
Train Live on Zoom
With live Zoom lessons, everyone gets a front-row seat. Replays are available. No one gets left behind at the Jacquin Hypnosis Academy.
Extensive Resources
We have curated an incredibly well thought out, extensive video library. Feel free to study at your own pace using the browser or our mobile app.
Hypnosis Community
Join the Jacquin Hypnosis Academy community and gain access a lively hypnosis forum where you can practice with other students between lessons.
Meet The Jacquins
The Jacquin Hypnosis Academy is run by father and son, Freddy Jacquin and Anthony Jacquin.

Freddy Jacquin has worked as a hypnotherapist since 1994. He has helped more than 30,000 therapy clients in his private practice and group sessions. He is the founder of The Jacquin Hypnosis Academy and has trained thousands of hypnotherapists throughout the world. Freddy is also the developer of The Arrow Technique, and the author of 'Hypnotherapy : Methods, Techniques and Philosophies.'
Anthony Jacquin went full time into hypnotherapy in 2001. Since then he has worked with over 7,000 therapy clients, helping them change their lives and realise their dreams. He is the author of the highly acclaimed book 'Reality is Plastic! The Art of Impromptu Hypnosis' and now runs training courses around the world, teaching others about this fascinating art.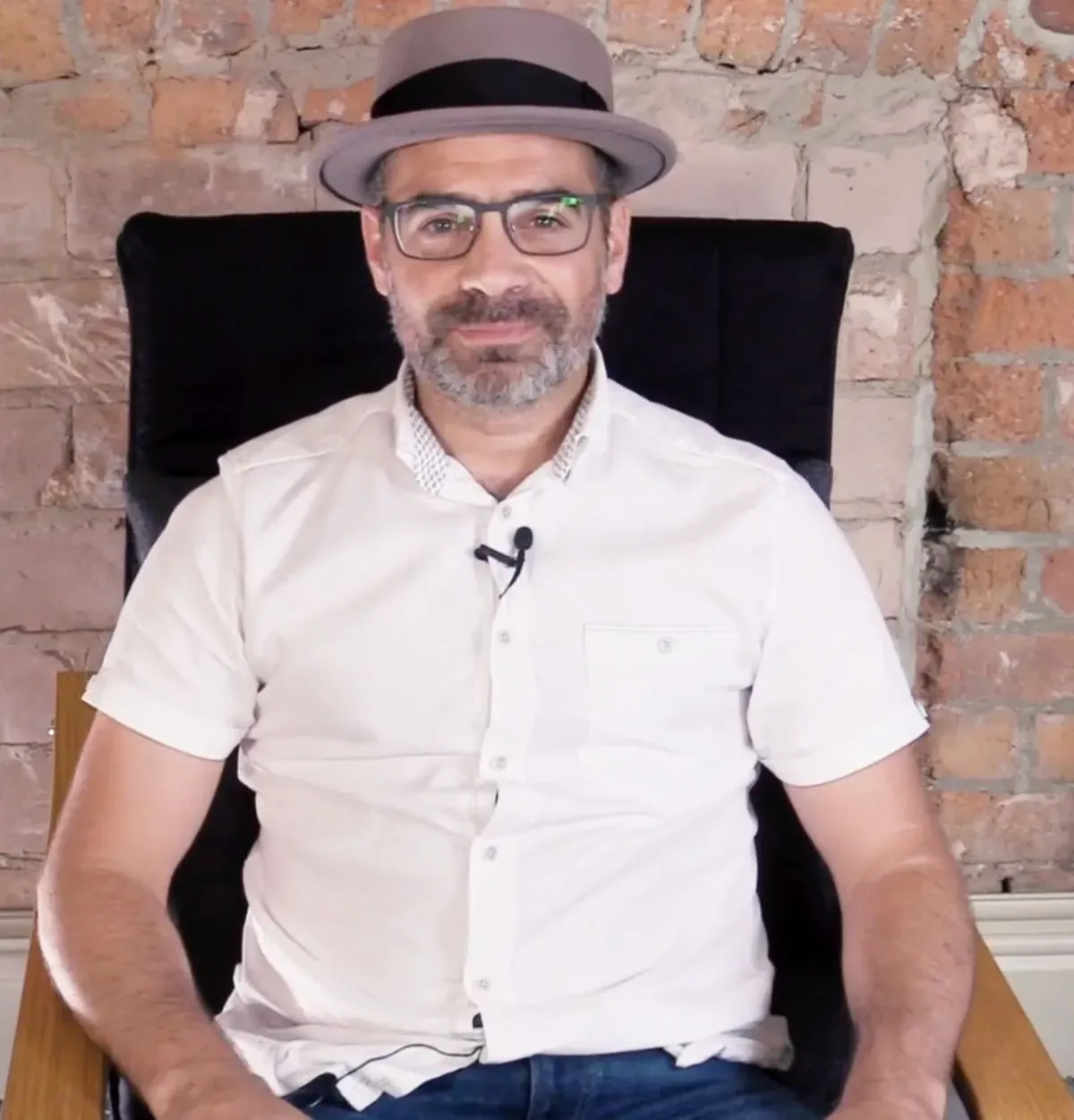 Become An Effective Agent Of Positive Change
All sorts of people are choosing to learn hypnotherapy. Many therapists, doctors, psychologists, nurses, counsellors and other professionals have chosen Jacquin Hypnosis Academy.
We want these skills to also be in the hands of coaches, teachers, leaders, parents and students too.
You can start training with no prior knowledge of hypnosis or therapy, and learn to be an effective hypnotherapist within six months.
Upon completing our Professional Hypnotherapy Diploma course you will be able to provide a professional hypnotherapy service, whether the applications are clinical, well-being or performance related.
We believe that Jacquin Hypnosis Academy provides the best value professional training available, and includes all the resources you need to succeed. You can find out for yourself with a full access free trial for 14 days.
Start your free trial
"
In my honest opinion Freddy Jacquin is the number one hypnotherapist in the world. Training with him and his remarkably talented son, Anthony is a must for anyone who wants to develop stellar hypnosis skills.
"
This is still some of the BEST training I ever received. If you have a chance to train with Freddy Jacquin and Anthony Jacquin DO SO NOW.
"
They over deliver and truly care about each and every student. Their standards are high but we support each other to excel. It is exceptional value for money and a life changing return in investment. The Jacquin Hypnotherapy Academy is a community that is a game changer for whatever goals you are considering.
"
I completed the Jacquin professional hypnotherapy diploma recently. I was already a qualified hypnotherapist but when I found out that Anthony and Freddy Jacquin, two of the best hypnotists and hypnosis trainers in the world were doing this diploma course, I had to go for it. The training was the best I have ever had. The training was structured in a way that you actually do hypnosis and therapy whilst learning as well as all the theory you need. The zoom classes were full of knowledge and so much fun practicing with other members of the course. Just awesome!
"
This training was super comprehensive , excellent value for money and it was well structured so was very manageable . You will leave with personal issues addressed, able to be a confident hypnotherapist and meet some lovely friends on the way.
"
I trained with the Jacquin Academy and have been really impressed with the level of professionalism and content. They are a wealth of knowledge and the course is tremendously good value. Also, you attend the course with people from all over the world and the mutual support and information is so useful. Whether you are a complete beginner to hypnotherapy training, or an experienced hypnotherapist, this course is top quality.
"
This is the best hypnosis course ever (and I've done a couple before) and I highly recommend it to anyone who's interested in learning hypnotherapy. Freddy and Anthony are excellent trainers with really big hearts and they give so much value that it is truly incredible. Plus you're automatically a member of the JHA online community which must be the most friendly and supportive community I've ever been a member of.
"
I've been performing stage hypnosis for years, and yet the Jacquins took me up to another level.

The Dynamic between the Intuitive Natural Approach of Freddy and the Analytically Precise Approach of Anthony create a package that has something for everyone. The course was fun and enjoyable, with plenty of frameworks to practice and internalise the things that we learned.

Easy 5 stars.
"
This is a fantastic training led by Freddy and Anthony who are hugely passionate about what they do. I came to the professional diploma training with no previous formal hypnotherapy training and the course is brilliantly accessible and logically structured, with very comprehensive written and video resources to support you. Practical experience is a big part of this course and not only has this helped to build my confidence but I've also made connections all over the world. Sad the course has finished but very much looking forward to all that will come from this.
Join our newsletter for tips, events and news.
We hold live online events, that are open to everyone who chooses to hear from us. These may involve hypnotic experiences, therapeutic exchanges, hypnosis training, business discussions, and more. We send emails to let you know what is going on, but do need your permission to do so.
Join the JHA newsletter today. We will always respect your inbox and your privacy.
Subscribe
Upcoming Events included in JHA Membership
JHA Christmas Cabaret
Our Christmas Party this year is a fully immersive experience at The Gin Trap Cabaret. Join us in East London for an evening of...
Our Christmas Party this year is a fully immersive experience at The Gin Trap Cabaret. Join us in East London for an evening of mystery, music and mirth.
Professional Hypnotherapy Diploma - Lesson 1
A new start date for the Professional Hypnotherapy Diploma. Everything you need to be a confident and effective hypnotherapist.
A new start date for the Professional Hypnotherapy Diploma. Everything you need to be a confident and effective hypnotherapist.
Simple Pricing. Powerful Results.
Professional Hypnotherapy Diploma
Exclusive Live Online Courses
Full access to video resources
24 hour practice room
Facebook group
The JHA Community
Live Events
Start Your Free Trial
JHA Teacher Training
£199
/month
Ten-month Instructors Program
Includes JHA Membership
Teach JHA Techniques
Exclusive training materials
Business Support
Collaborative Community Platform
Teach Hypnotherapy
A Few FAQs
How long will it take to get my Professional Hypnotherapy Diploma?
The Professional Hypnotherapy Diploma is a fifty hour course. It is made up of twelve four-hour lessons, one every two weeks. This is followed by a two-hour awards ceremony. It takes around six months to complete the course. Therefore you would need to maintain JHA membership for a minimum of six months.
What is the Jacquin Hypnosis Academy Diploma Certification?
In most parts of the world, including the United Kingdom, Hypnotherapy is a self-regulated profession. There is not an official governing body. That means that anyone could set up a training organisation and issue a certification. Therefore the value of any hypnotherapy diploma certification is simply related to the quality of the training received, and the standing of the training organisation it is issued by. We make it our business to offer professional training of the highest quality, backed up by in-depth training materials, and student support. A certificate from us shows that you have been taught by professionals, gained extensive practical experience along the way, and have access to valuable resources, peers and support.
Will I be able to use this hypnotherapy diploma professionally?
Yes. After completing the Professional Hypnotherapy Diploma you will be able to work as a professional hypnotherapist, or integrate hypnotic tools into your existing work. You will receive a Professional Hypnotherapy Diploma and be able to get insured. You will have all the resources you need to provide an effective, ethical and safe service. We have been teaching people to be professional hypnotherapists for over 20 years, and many of our students make this their part-time or full-time career.
What is JHA Teacher Training?
JHA Teacher Training is a seventy hour course that enables you to train others in the JHA system of hypnotherapy. You can build a hypnotherapy training business in person, or online, and we will help you to do that. We provide all of the key resources that you need to get started, as well as business support. The course runs over 10 months with 7 hours class time per month. So you would need to maintain JHA Teacher Training Membership for that period. Get all of the details here.
What video courses are included?
The Modern Hypnotherapy Course - The Modern Hypnotherapy Course is the perfect way to get started. You'll get 16 lessons covering everything from the basics of hypnosis to our most effective techniques for helping people change. Plus, you'll get in-depth demonstrations for how to help people with quitting smoking, losing weight and overcoming anxiety. With this course, you'll have everything you need to start helping people make real changes in their lives.

Impromptu Hypnosis Course - This online hypnosis course is perfect for beginners or experienced hypnotists. It covers everything from how to approach people, to scaling up your routines. You'll learn how to create instant hypnosis demonstrations that are both convincing and entertaining. Plus, you'll have access to pdfs of the course materials and supplementary videos.

Freddy Jacquin's Quit Smoking Protocol - Smoking cessation can be hard. But with Freddy Jacquin's Quit Smoking Protocol, it will be a lot easier. This comprehensive course takes you through every step of helping smokers quit, from preparing for the session to dealing with any challenges that may come up. With decades of experience and thousands of clients between them, Freddy and Anthony Jacquin know what it takes to help people break their smoking habit for good.

Professional Hypnotherapy Course - This course covers the entire system that Freddy and Anthony teach on their live Professional Hypnotherapy Diploma course. The approach is brief, solution focussed, person-centric and process driven. In over 45 lessons, demonstrations, explanations, sessions and experiences, you will be walked through every aspect of the system, you will see real-life sessions and professional discussions about the approach. Everything you need to be a hypnotherapist is included here.

The Arrow Technique Course - This is the most in-depth training available in this incredible utility tool. Learn how to apply it to eliminate or relieve chronic physical and emotional pain. It includes high quality video of real sessions, plus a detailed breakdown of every line, action and nuance from Freddy and Anthony Jacquin. If you are not already using The Arrow Technique, you are missing out. You will want this in your toolkit as quickly as possible.
And so much more...Seriously, we have a vast library of hypnosis video resources, business momentum sessions, guest speakers, student group sessions, interviews, lectures and more.

Are any of your lessons live?
All of our lessons are live online - delivered via Zoom video calls.
Periodically we run, or are hosted to provide, live in-person training courses.
As well as this we curate other special live online, or live in-person events to connect the hypnosis community and deepen the conversation.
Do you offer any courses on how to build my Hypnotherapy business?
Our aim is to give our students the toolset, the skillset and the mindset to be a successful hypnotherapist. And success means giving attention to business. So we provide regular live webinars dedicated to business topics. We include business related training within the Professional Hypnotherapy Diploma too. Plus our social community is strong and contains a wealth of experience that you can draw upon with your business questions.
What are the entry requirements for JHA Teacher Training?
To be considered for JHA Teacher Training, you must have completed the JHA Professional Hypnotherapy Diploma and have gained significant professional experience providing a variety of hypnotherapy services. Our aim is to enable you to provide the highest level of hypnotherapy training, with the resources and flexibility to handle the demands of a wide variety of students. Get more details and FAQ about our Professional Hypnotherapy Instructor Program here.
Have Any Questions?
We appreciate that you are excited to learn hypnosis and hypnotherapy and may be overwhelmed with the diversity of options, materials and ideas available out there. We try to keep it simple at Jacquin Hypnosis Academy by including all of our courses and materials in one simple subscription membership. If you have looked through our site and still have questions, then email us or schedule a chat with us on Zoom.